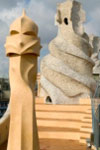 La Pedrera de Dia (Casa Milà)
Price from Can$ 37.20
Visit the iconic Barcelona landmark La Pedrera de Dia, it is one of the finest examples of the work of the great architect, Antoni Gaudí.
La Pedrera is considered one of the most outstanding buildings of the 20th century because of its spectacular façade and unique rooftop.
When you buy your tickets for La Pedrera here you:
- Get your e-tickets directly into your inbox
- Avoid the queques with our skip the line tickets
- Experience four of the building's most significant areas

What is La Pedrera de Dia?
La Pedrera de Dia is the home Antoni Gaudí designed at the pinnacle of his career, the home where he spent the remaining years of his life.
The Casa Milà, popularly known as La Pedrera (Catalan for quarry), is a unique building designed by Gaudí (1852-1926) and built between 1906 and 1912. It was declared a UNESCO World Heritage Site in 1984.
What does the visit include?
The visit includes four of the building's most significant areas:
The rooftop with its sinuous forms and changes in level, this is one of Gaudí's most groundbreaking spaces. The stairwells and magically shaped chimneys are the most eye-catching features and have become iconic symbols of Gaudí and Barcelona.
The Espai Gaudí is located in one of the most distinctive spaces designed by Gaudí: the attic in La Pedrera. It houses the only exhibition dedicated to Gaudí's life and work which showcases the architect's creations through models and plans, objects and designs, photographs and videos.
The Pedrera period apartment is a recreation of an early-20th century bourgeois family apartment which gives us an insight into the way they lived, with period furniture and household equipment of the period and decorative elements designed by Gaudí.
The courtyards which showcase Gaudí's innovations, show how nature inspired the entire building.

Is there children's tickets?
Yes, children's tickets are available for children between 7-12 years old. Children between 0-6 years old are free, when accompanied by a paying adult.

Important information:
- Shortly after your booking is complete, you will receive an e-ticket by email. Please print out your ticket and bring it with you to La Pedrera de Dia.
- La Pedrera de Dia is closed December 25.
- To make your visit more enjoyable and avoid the crowds, we recommend you visit La Pedrera in the afternoon (after 4 PM) or first thing in the morning (from 9-10 AM).