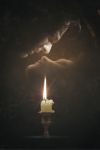 La Boheme
Royal Opera House
Price from Can$ 456.20
For the perfect combination of charm, melody and emotional power, you can't do better than this Puccini classic - La Bohéme. It is one of the most widely loved of all operas. Full of great music and great characters.

This production for The Royal Opera House was created nearly forty years ago by John Copley and has a become a classic. It is the tragic love story of Mimi and Rodolfo in Paris in the 1830s.

The two lovers meet one cold Christmas, and are instantly warmed by their immediate attraction. But as misunderstandings and illness torment them, shared love turns to tragedy.