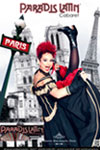 Paradis Latin
Price from Can$ 123.90
The Paradis Latin is the most Parisian of the great cabarets. Get ready for a night with delicious food, champagne, and magnificent entertainment.

Highlights:
- Experience the most cabaret Parisian cabaret of them all
- Choose between show only, show & champagne or show & dinner
- Enjoy a quality French dinner with wine and champagne
- Take in the authentic French atmosphere
- Admire the traditional French can-can
- Enjoy the live interaction with the audience

Experience a Cabaret at Paradis Latin
The theater, built by Gustave Eiffel in 1889, is considered a national landmark. Today, it hosts the hit show 'Paradis à la Folie'.

The show contains prestigious artists and is acclaimed by guests from all over the world. The performances are unfolded in authentic surroundings and are a fabulous cocktail of modern ballets, lavish fanfares, and musical comedy. The show also features the very famous French can-can.

The Paradis Latin combines quality dining, personal service and a stunning revue guarantee you an unforgettable evening.
You can choose between: show only, show & champagne (a glass or 1/2 bottle), show, 1/2 a bottle of champagne & five macarons or show & dinner.
How do I get my tickets?
Shortly after your booking is complete your e-ticket will be sent directly to your email, just print it out and bring it with you to the theater.
Where is the theater located?
The Paradis Latin is located right in the heart of Paris, approx. 500 meters from Notre Dame, in the famous Quartier Latin. Just a few minutes walk from two metro stations (Carinal Lemoine line 10 and Jussieu line 7 and 10).

How long is the show?
The show is 1.5 hour.

What's on the menu?
You can see what's on the three different menus here and the Valentine, Christmas and New Year's Eve menus here.

Is there a dress code?
The Paradis Latin requires an appropriate attire, tie and jacket are not mandatory, but shorts, sports gear or tennis shoes and sneakers are not accepted.
Are there children's tickets?
No, we do not offer children's tickets for the Paradis Latin.