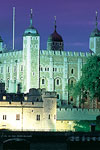 Tower of London
Price from Can$ 43.70
The Tower of London is one of those attractions you must visit at least once! Save time by booking your tickets to the Tower of London from home and skip the line at the box office. There is a lot to enjoy for the whole family!

Highlights:
- Skip the line at the box office
- Enjoy a free guided Yeoman Warder (Beefeater) tour
- Get e-tickets sent directly to your inbox
- Your tickets are valid for a month
- See the Crown Jewels and the Beefeaters
- Children under age 5 are admitted for free

Visit the Tower of London
Her Majesty Queen Elizabeth's Royal Palace and Fortress, also known as the Tower of London, is a historic castle located on the north bank of the River Thames in central London.

The Tower of London is well known for the Crown Jewels, the Beefeaters (the Guards, also called Yeomen Warders) and the ravens, but attractions like the White Tower, the Bloody Tower and Traitor's Gate are also worth a visit when you are at the almost-1000-year-old site.  

Enjoy a free Yeoman Warder tour
Your admission includes a free Yeoman Warder (Beefeater) tour for those who arrive early. Yeoman Warder tours take place every half hour throughout the day, but these guided tours cannot be pre-booked and fill up quickly, so plan to arrive early. 

How do I book my tickets?
Choose the date you arrive in London as the "valid from" date, as the tickets you purchase here are valid 1 month from the "valid from" date you specify. Choose the number of tickets you want and click on "search". Then select adult or children tickets (ages 5-15 years). Children's tickets can only be purchased when buying adult tickets. 

How do I get my tickets?
Shortly after your booking has been completed you will receive an e-ticket by email. Please print out your ticket and bring it with you to the Tower of London. 

You need to exchange the e-tickets we send to you at the Tower of London for actual entrance tickets. Don't worry, it's very easy. Just remember that the person who booked the tickets needs to bring a valid photo ID (e.g. a passport or driver's license) to exchange your e-tickets for your entrance tickets. 

Are there child rates?
Yes,  child rates are available for children between the ages of 5-15. Children under 5 years old have free admission when accompanied by a paying adult.