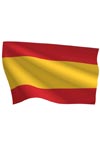 F1 Spanish Grand Prix 2017
Price from Can$ 211.90
Formula 1 Grand Prix in Barcelona is one of the classics on the F1 calender. Tickets to F1 Barcelona can be purchased here!

The Grand Prix at Circuit de Catalunya will take place Sunday 14 May 2017.

Friday 12 May 2017 and Saturday 13 May 2017, from morning and during the evening different time races, qualifying races and training will take place!

On our site you can buy tickets for all 3 days (12-14 May 2017) That means tickets for all races, qualifying races and training and the F1 Grand Prix on Sunday 14 May 2017.

Or you can just buy tickets that apply ONLY on Sundays, which covers all events on Sunday the 14 May 2017 and the F1 Grand Prix Sunday 14 May 2017!

See more here: CIRCUIT CATALUNYA , where you can see all stands, sections and seats!

Useful Information :
- After you have completed your booking a confirmation and a voucher / e-ticket will be sent to your e-mail address. Please print both and bring a copy on your journey.

-Your tickets will be ready to be collected at the collection point at the track. Exact address and opening hours for collection will clearly be stated on your voucher/E-ticket.
- Ticket collection is possible Thursday, Friday, Saturday and Sunday.
- The track is 4.65 km. long, and the race is 66 laps long, giving a total distance of approx. 307 km.
- Lap record is held by K. Raikkonen and is 1 min. and 21 sec. and was set in 2008.