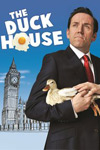 The Duck House
Vaudeville Theatre
Price from Can$ 83.00
The Duck House in London is a very funny English political comedy. You can book your tickets for The Duck House in London here!

The Duck House is an outrageous new laugh-out-loud comedy set in a world of dodgy receipts, dodgier deceit, and pure Parliamentary panic, that sharply satirises the MPs Expenses Scandal that outraged Britain following press revealtions in 2009. May 2009.

Gordon Brown's Government is in meltdown and a General Election is just one year away. Labour backbencher Robert Houston loves being an MP and will do anything to save his seat – including change sides. All is going well with his switch from red to blue until, on the eve of his final interview with Sir Norman Cavendish, a Tory grandee, the Expenses Scandal breaks.

As public fury mounts over taxpayers' millions being frittered away on second homes, hanging baskets, moat-cleaning and duck houses, Robert and his secretarial staff (aka wife Felicity, student son Seb and Russian housekeeper Ludmilla) find themselves in big, big trouble. And how did the EU bring together Seb's gorgeous girlfriend Holly and Sir Norman?
The Duck House Reviews
"A comic tonic to brighten the cold night winter evenings"
The Stage
---
"A fine production"
Financial Times
---
"Ribald seasonal entertainment"
Evening Standard
---
"Blissfully funny"
The Independent
---
"It?s fast and it?s really funny"
The Times
---
"A ribald farce. genuinely hilarious"
Daily Telegraph
---