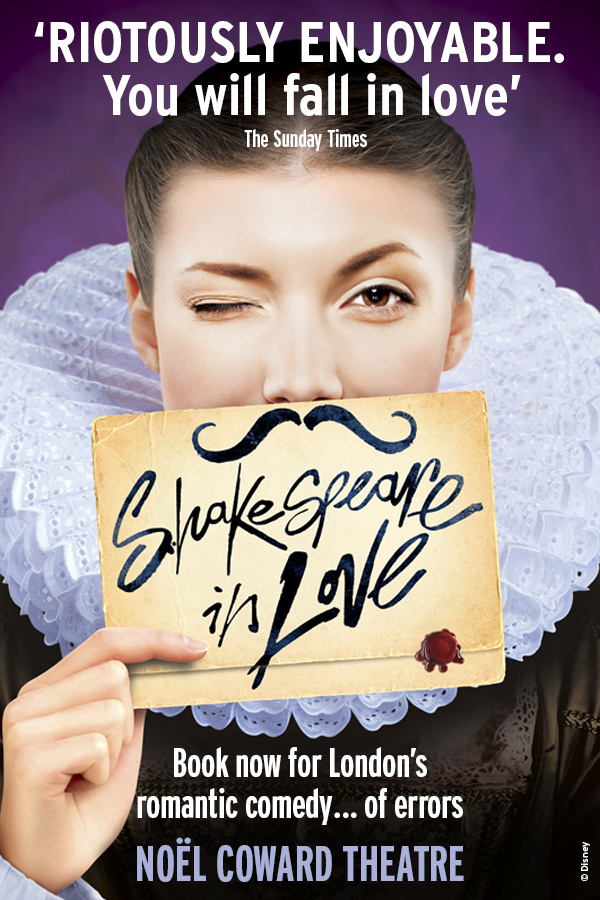 Shakespeare In Love
Noel Coward Theatre
Price from Can$ 27.30
Shakespeare in Love in London in a stage version by Lee Hall adapted from the smash-hit 1998 movie romantic comedy. Tickets for Shakespeare in Love in London here!

The production is directed by Declan Donnellan and designed by Nick Ormerod, who together are the driving force behind the world-renowned theatre company, Cheek by Jowl.

Plagued by debt, tormented by writer's block and in desperate need of a new hit, promising new playwright Will Shakespeare finds his muse in the form of passionate young noblewoman Viola De Lesseps.

Their forbidden love soon draws everyone, including Queen Elizabeth herself, into the drama and inspires Will to write the greatest love story of all time: Romeo and Juliet.

Shakespeare in Love revels in the sheer joy of love itself. Prepare to be transported to to a vibrant, vivid tableau of Shakespeare's London, teeming with colourful characters, music and life.
Shakespeare In Love Reviews
"Sheer stage poetry mixed with EFFERVESCENT FUN. MAKES YOU FEEL GRATEFUL TO BE ALIVE'"
The Independent
---
"A STIRRING LOVE STORY, DELIGHTFUL, FUNNY AND MOVING. A JOYOUS CELEBRATION OF THEATRE'"
The Daily Telegraph
---
"'Declan Donnellan's vibrant and ingeniously fluid stage production'"
The Times
---
"A love letter to theatre itself."
The Guardian
---