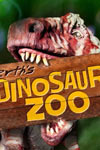 Dinosaur Zoo
King's Cross Theatre
Price from Can$ 36.20
Dinosaur Zoo is on at Regent's Park Open Air Theater in London. Book your tickets for Dinosaur Zoo in London here.

Experience an amazing selection of dinosaurs and creatures that inhabited the landscape millions of years ago. Children will have the opportunity to help feed, water and care for these prehistoric marvels with simple lessons in animal husbandry.

Dinosaur Zoo is a unique show that allows heaps of interaction for kids and adults while they travel with the Erth performers on a journey through prehistoric Australia.