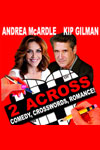 2 Across: A New Comedy of Crosswords and Romance
St. Luke's Theatre
Price from Can$ 63.50
Experience 2 Across, a new comedy about crosswords, romance and two strangers meeting in a train.

Highlights:
- Enjoy 2 Across on Broadway
- Get the best seats available in your chosen category
- Experience a witty and heartwarming new play

2 Across: A new Comedy of Crosswords and Romance
Two strangers, a psychologist (Andrea McArdle) and an unemployed ad man (Kip Gilman) find themselves alone on a San Francisco commuter train at 4 a.m., each doing their New York Times crossword puzzles.

But before their crosswords are solved, they find that they may have solved the puzzles of their own lives.

How do I get my tickets?
Shortly after your booking is complete, you will receive an e-ticket by email. Just print out your ticket and bring it with you to the theater.