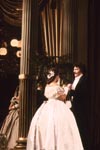 Arabella
Metropolitan Opera
Price from Can$ 144.00
Arabella at The Metropolitan Opera House in New York. Tickets for Arabella by Richard Strauss at The Met in New York here!

Swedish soprano Malin Byström stars in the title role of Strauss's nostalgic romance that explores the fleeting charms of youth, with Michael Volle and Genia Kühmeier. Philippe Auguin conducts.

Dates: 3. April 2014, 7. April 2014, 11. April 2014, 16. April 2014, 19. April 2014, 24. April 2014!

Arabella is sung in German with Met Titles in English, German, and Spanish!