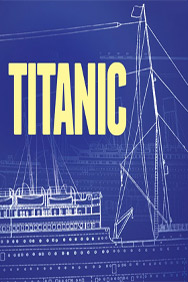 Titanic
Charing Cross Theatre
Price from Can$ 70.50
In the final hour of 14 April 1912 the RMS Titanic, on her maiden voyage from Southampton to New York, collidedwith an iceberg and 'the unsinkable ship' slowly sank.

It was one of the most tragic disasters of the 20th Century.1517 men, women and children lost their lives.

Based on actual characters aboard the greatest ship in the world, Maury Yeston (Nine, Grand Hotel) and Peter Stone's stunning musical focuses on their hopes and aspirations. Unaware of the fate that awaits them, the Third Class immigrants dream of a better life in America, the newly-enfranchised Second Class dream of achieving the lifestyles of the rich and famous, and the millionaire Barons of the First Class dream of their hegemony lasting forever.


How do I get my tickets?
Shortly after your booking is complete, you will receive an e-ticket by email. Just print out your ticket and bring it with you to the theater.