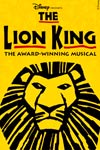 Disney's The Lion King - London
Lyceum Theatre
Price from Can$ 68.50
Wonder at Disney's beloved family movie adapted brilliantly to the stage in London. With music by Elton John, and directed by genius Julie Taymor, Disney's The Lion King is one of the most thrilling theatrical experiences ever.

Highlights:
- Secure your tickets to this show that continues to sell out
- Choose from a variety of ticket prices
- Thrill from the music by Elton John
- Wonder at the beauty of Julie Taymor's creativity live on stage
- Enjoy this multi award-winning family musical

What is the Lion King about?
When the young lion prince Simba is born, his evil uncle Scar is pushed back in the line for the throne. Scar plans to kill both Simba and his father, King Mufasa, so he can take over the throne and become king. Simba survives, but thinks he's the cause of his father's death and decides to flee the kingdom.

It's a splendid musical and absolutely one of the most popular in London and New York right now.

In the Lion King the savannah becomes alive in London's West End! The songs in the Lion King include 'Circle of Life', 'Hakuna Matata' and 'Can You Fell the Love Tonight'.

Did you know this about the Lion King?
The musical had its world-premiere on Broadway in 1999, and since then it has played in many large cities around the world. The musical has won no less than 6 Tony Awards® on Broadway in New York, received an Evening Standard distinction as the theater event of the year and was nominated for no less than 8 Olivier Awards.

How do I get my tickets?
Shortly after your order is complete, you will receive an e-ticket to the email address entered at time of booking. Please print out your ticket and bring it with you to the theater.

How long is the musical?
The Lion King runs approximately 2 hours and 45 minutes, including intermission.

Who is the show suitable for?
The Lion King the musical is suitable for all ages, young and adults alike. The musical is especially popular among families. It's recommended for children from age 6. Please be aware that children under 3 years old will not be admitted.

Who is the creative team behind the show?
Text and music by Tim Rice and Elton John. Julie Taymor directs this musical version of Disney's insanely popular movie the Lion King. She was the first woman to win a Tony Award® for 'Best Director of a Musical'.

Important information:
- Please note: Strobe lighting is used several times during the show.
Disney's The Lion King - London Reviews
"You hope all nights in the theatre will be like this!"
The Daily Mail
---
"It lights up the West End with a blaze of fabulous imagination"
Evening Standard
---