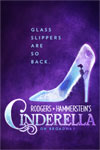 Cinderella
Broadway Theatre
Price from Can$ 198.80
Rodgers and Hammerstein's Cinderella the Musical on Broadway in New York is based on the classic fairytale. Tickets for Cinderella on Broadway in New York.

Break out your best ball gown...Rodgers and Hammerstein's CINDERELLA is coming to Broadway! Acclaimed writer Douglas Carter Beane (Sister Act and Xanadu ) has waved his magic wand over the world's most treasured fairytale, and his delightfully romantic take on the ultimate makeover story promises some hilarious new twists!

Come discover CINDERELLA'S sassier side -- and re-discover some of your favorite Rodgers and Hammerstein songs -- in this outrageously fun Broadway musical for dreamers of all ages.

And not to worry...you'll be home well before the stroke of midnight!