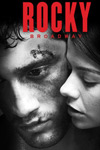 Rocky
Winter Garden Theatre
Price from Can$ 177.30
Rocky the Musical on Broadway in New York is a brand new musical about boxing & courage, but it is mostly about love. Tickets for Rocky the Musical in New York here!

Rocky brings to life the iconic and inspiring story of struggling small time Philly boxer, Rocky Balboa, who gets a once-in-a-lifetime shot to go the distance against heavyweight champ Apollo Creed.

Both an adrenalin-infused spectacle and a surprising story of blossoming romance between two lonely outsiders, Rocky is a heart-stopping and viscerally theatrical new musical for everyone brave enough to follow their dream.

Rocky the Musical is of course based on the motion picture 'Rocky' from 1976, with Sylvester Stallone in the leading role!