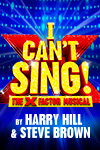 I Can't Sing! The X Factor Musical
London Palladium
Price from Can$ 47.70
I Can't Sing! The X Factor Musical in London is a funny and touching musical comedy, co-produced by Mr. Simon Cowell. Book tickets for I Can't Sing! The X Factor Musical in London here!

I Can't Sing! is Harry Hill's hilarious new X Factor musical, which goes behind the microphones and under the judges' desks at the biggest show on earth and reveals the (not necessarily accurate) tale of heartache and laughter which keeps millions of us glued to The X Factor, week-after-week.

Irreverent, anarchic, yet strangely touching, this spectacular musical comedy features a host of new and deliriously funny songs that can't fail to delight, whether you're a fan of The X Factor or a sceptic.

On the surface it's the story of one girl's journey in search of triumph in the final round of the X-Factor. But the fun of I Can't Sing! is all in the getting there. As well as hilarious songs there's a veritable sideshow's worth of barmy oddities on display, including a singing hunchback, a man on an iron lung and a talking dog.

I CAN'T SING! is co-produced by the patron saint of fame himself, MR SIMON COWELL, and apparently it also answers the question as to why Mr Cowells waistband is so high!

Think you know The X Factor? Think again!

In short, I Can't Sing! The X Factor Musical is a West End musical like nothing Theatreland has ever played host to before.
I Can't Sing! The X Factor Musical Reviews
"Glorious gags. inexplicable magic? a jaw-dropping ending"
The Times
---
"Wildly eccentric, wonderfully funny. A big, popular hit blessed with real heart and great theatrical panache"
Daily Telegraph
---
"Top tunes, brilliant singing. One million percent YES!"
Daily Mirror
---
"THE DADDY OF ALL MUSICALS. By far the best of the recent West End musical openings"
Daily Express
---