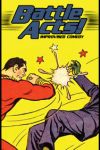 Battleacts!
The Light Bar at The Vault Festival
Price from Can$ 23.70
Recommended by The Independent (Top Ten Comedy Shows), TimeOut (Critic's Choice) and a Smirno? Hot Pick, this hilarious, no-holds-barred improv smackdown is not to be missed. BattleActs! have been regulars on the London impro scene since 2009, with residencies at the Canal Café and The Dogstar, Brixton, as well as guest appearances at The Roundhouse in Camden, The Comedy Store in Manchester and the Edinburgh Fringe. BattleActs! were crowned the winners of 2012's Manchester Improv Tournament.