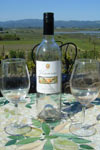 Woods & Wine Tour
Price from $ 90.00
See some of the world's tallest trees in Muir Woods in the morning and end your day with wine tastings in Northern California's wine region. Our Woods & Wine Tour is a combination of two unique California experiences in one day. Join us for a day you'll never forget.

Muir Woods is home to Coast Redwoods, some of the world's tallest trees. Here you have the opportunity to take a short walk or a trek through these magnificient woods and just take in a place like no other. Since 1908 Muir Woods have been a federal protected area and Muir Woods National Monument is the only surviving stand of Old Growth Forest in the Bay Area today (admission not included).

In the afternoon, we leave Muir Woods and head north towards the famous wine country for some wine tasteings. As we drive into the stunning Sonoma Valley you cna just lean back and soak up the spectacular scenery. You'll get to taste a wide variety of whites, reds and dessert wines, while our friendly and knowledgable guides happily offer their expertise on local wines and wineries.

Duration: 5-6 hours

Important information:
- Shortly after your booking is complete, you will receive an e-ticket by mail. Please print out your ticket and bring it with you to be redeemed with City Sightseeing at 2800 Leavenworth Street (between Beach Street & Jefferson Street) where your tour starts.
- Admission to Muir Woods is not included (approx. $7 for adults, children are free).
- Some tasting fees are not included and vary depending on wine selection (approx. $5 per person.)
- Children are permitted on this tour, but you must be 21 are older to sample wines.
- Children's tickets are available for children between 5-11 years old. Children under 5 are free, when accompanied by a paying adult.