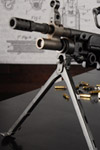 The SAS Experience
Price from $ 190.00
Fire the same guns used by Her Majesty's Special Air Service, the elite branch of the United Kingdom Special Forces (UKSF).

Our SAS Experience (Special Air Services) lets you start small and end big! Start your experience off with a sniper rifle and work your way up to one of our most popular belt-fed machine guns, the SAW.

Your Machine Guns Vegas shoot includes:
- Free transportation to and from MGV
- Shoot the HK MP5, Sniper Rifle, Glock 17 and M249 SAW
- Add on the Colt Commando for $54.95
Important information:
- Shortly after your booking is complete, you will receive an e-ticket by email. Please print out your ticket and bring it with you on the tour.
- If you are staying at a hotel on the Las Vegas Strip or in the Downtown area we can arrange hotel pick-up for you. All you have to do is call our supplier the day before your booking and arrange pick-up directly with them. Our suppliers phone number will be clearly stated on your e-ticket.
- Please be at the address 15 minutes before your booking.