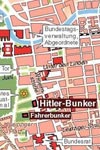 Third Reich Berlin Walking Tour
Price from $ 17.40
Our Third Reich Berlin Walking Tour shows you all the important sites of Berlin when the city was the Capitol of Nazi Germany. Book your tickets here!

We all know it happened in Berlin from 1933 to 1945 but WHERE in Berlin? Street names have changed, many buildings have gone – but the nerve centre of the "Third Reich" was located in Berlin.

See what is left of the "1000 year Reich " today: Goebbels' Propaganda Minstry , Goering's Air Ministry (Luftwaffe Headquarters), the remains of Himmler's SS and Gestapo (secret police) Headquarters . Find out where Speer built the huge New Reich Chancellery for Hitler and where the vast People's Hall should have stood.

See the exact position of Hitler's bunker , where he committed suicide; we strip away the myth surrounding this event and place it in the context of the Battle of Berlin.

Using the latest historical research, our expert guides address how Hitler schemed his way to power, and how these enormous crimes continue to cast their shadow over Germany today.

IMPORTANT INFORMATION:
- The tour is in English.
- Duration is about 3 to 3½ hour.
- The tour starts the taxi stand outside Berlin Zoo station (Bahnhof Zoologischer Garten). Here you will find the guide from Original Berlin Walks.!
- As this tour incl. a short ride with the Berlin Subway, Please bring an AB public transport ticket or buy one from the guide (2012 Price was €2.40).
- Youth price is for all under 26 years old.
- Children under 12 years old is free if they are together with a paying adult.
- The tour is on rain or shine! So please wear clothes and shoes according to weather!
- There is no food or drinks incl. in the price!
- Third Reich Berlin Walking Tour ends at the exact position of Hitler's bunker.