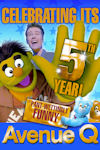 Avenue Q
Wyndham's Theatre
Avenue Q is South Park and the Muppet Show in one musical! Tickets for London's funniest musical Avenue Q are available here.

To call it a puppet show does it a disservice, Sesame Street for grown-ups isn't right either. There's no handy way to describe Avenue Q except as the furriest, and one of the funniest, shows you're likely ever to see.

Avenue Q contains scenes which may be unsuitable for children under 12.
Children under 5 are not admitted.

However, it is safe to say that if you are an adult with a good sense of humour, then Avenue Q is right up your street!
Avenue Q Reviews
"Brash, vulgar, sometimes downright obscene, I loved every minute of it"
Sunday Times
---
"An outrageously funny musical for the iPod generation. Cross Sesame Street with the Muppet Show give it an X rating and slap on a Government Health Warning that too much laughter can make your sides ache and you've got Avenue Q, A MUST SEE"
Radio 2
---
Avenue Q Press release
"The best musical of the decade" - Christopher Hart, Sunday Times. After a hugely successful run at the Gielgud, the eternally popular musical Avenue Q will move to the Wyndham's (almost back to where it ...
Read more