Attractions Paris
Welcome to our Paris site a page for all who wants tickets to cabarets, attractions and sightseeing in Paris. Here you may quickly, easily and securely purchase tickets to the Moulin Rouge or Lido de Paris, or what about a dinner at The Eiffel Tower, a guided tour at The Louvre, a dinner cruise down the Seine river or visit Versailles Castle?
Top list
Sort after
A - Z
Price
Reviews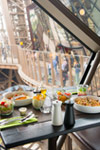 Lunch at Restaurant 58 Eiffel Tower
Want something extra special for your Paris trip? Book a lovely lunch at Restaurant 58 Tour Eiffel on the first floor of the Eiffel Tower and combine one of the world's most popular attractions with a lunch!
Why shop with us?
Over 2 million tickets sold
Pay in Canadian Dollars with no hidden fees
25 years of experience in ticket sales
100% secure payment system